July 27, 2011
FJORDNE "Charles Rendition" display at Tower Records Shinjuku
FJORDNE "Charles Rendition" is currently now on the listening booth display at Tower Records Shinjuku, all thanks to the work done by our Japan distributor at inpartmaint inc / p*dis. FJORDNE "Charles Rendition" is now available all at good music stores in Japan and around the world. Do check our website stockists page to find your nearest shop and distributor
- Kitchen. Label Stockist List
July 24, 2011
FJORDNE "Charles Rendition" is CD of the week at Fluid Radio (UK)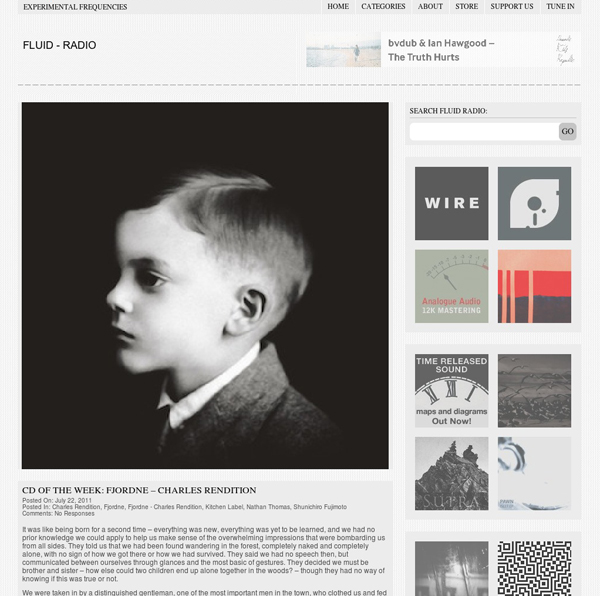 FJORDNE "Charles Rendition" is CD of the week at Fluid Radio (UK). Check out the reviewer's own interpretation of FJORDNE's short story that was penned for the album. An interesting read. The album is also available at Fluid Radio's online store Stashed Goods
- Read more at Fluid Radio
- Buy now at Stashed Goods
July 17, 2011
FJORDNE "Charles Rendition" recommended at Norman Records
FJORDNE "Charles Rendition" gets a 4 out of 5 review and is this week's recommended album at Norman Records (UK).
"Never heard the last album by Fjordne, and I may never do as it has now sold out. Released on the little Singapore-based imprint Kitchen, it was apparently built from "floaty twinkly pastoral electronica" according to Phil. I'm not convinced I can get away with describing this new collection as that. Its ingredients are situated more along the line of downbeat lounge jazz, reflective ivory-tinkling & atmospheric electronica with dense, evocative layers of subtle samples & dynamic sprinklings of incidental sound-art that combine to enhance an already quite moody & interesting sound! For lovers of wistful jazzy downtempo electronica with a unique, progressive edge. Nice 6″ square package with intriguing inserts especially, as always from this lovingly run boutique imprint!!"
July 17, 2011
haruka nakamura Fukuoka & Nagasaki tour
haruka nakamura continues his tour of Japan with the musicians from the album "twilight". Joint by saxophonist ARAKI Shin and percussionist Isao Saito, the trio will be performing in late August at Fukuoka's Brick Hall (left) and Nagasaki's monné porte (right), both are refurbished buildings converted into unique performance spaces with an air of old world charm. Jointly organized with RONDADE.
Venue : Brick Hall (Spital Market)
Date : 2011.8.27
Time : open 20:30 start 21:00
Tickets : 当日3000円 (Limited 80)
Venue : monné porte
Date : 2011.8.28
Time : open 17:30 start 18:00
Tickets : 当日2500円 (Limited 100)
- More information
- More about Brick Hall
- More about monné porte
July 8, 2011
ironomi and haruka nakamura live at STARNET
ironomi and haruka nakamura will be performing at STARNET「山の食堂」(Mashiko City) on 8.13 and 8.20 respectively. The venue is the same refurbished old house atop a hill where ironomi "sketch" was recorded.
Event : 「森の静寂」
Live Act : ironomi, radiosonde
Date : 2011.8.13
Time : open 18:00 start 18:30
Tickets : 当日2700円
Venue : スターネット「山の食堂」
Event : 「8月の祈り」
Live Act : haruka nakamura ARAKI Shin, CANTUS
Date : 2011.8.20
Time : open 18:00 start 18:30
Tickets : 当日2700円
Venue : スターネット「山の食堂」