Nº 2 ASPIDISTRAFLY – I HOLD A WISH FOR YOU
"Ethereal froth scudding across the sky. The sunset cleanses today, leaving it glowing. Shining water, silent waves."

"i hold a wish for you" is aspidistrafly's anticipated first full album. Drawing references to Banana Yoshimoto's literary classic "Moonlight Shadow", aspidistrafly weaves through the solitary atmosphere of the novel with their own narratives inspired by several excursions outside the confines of their immediate surroundings.  This latest release invokes delicate moments with nine tracks that combine acoustic instrumentation across April's warm vocal harmonies, soft floating textures and binaural field recordings.

"i hold a wish for you" is an invitation to travel with sound through lyrical melodies and pastoral sonic scapes, accompanied with artwork by April Lee and Kobe-based artist Rika M.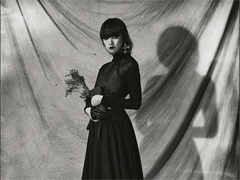 ABOUT THE ARTIST
After the release of "The Ghost of Things" EP, ASPIDISTRAFLY released their first full-length album "i hold a wish for you" (Kitchen. Label) in 2008. The album was launched and supported by Apple Inc, Club 21 and Asylum in Singapore. Outside of Singapore, the album has gained international attention and was listed on Textura's top 20 albums of 2009. The duo was then invited to go on a 7-city Asian tour around Tokyo, Kyoto, Bangkok, Macau, Hongkong and Kuala Lumpur, which culminated at a headline show at renowned venue for advanced music, Superdeluxe in Tokyo.   —
Read more
CATALOGUE NO.


KI-002

FORMAT


CD + Artbook / Digital

GENRE


Ambient, Electronic

SPECIFICATION


13.5 x 13.5
6 fold concertina portfolio, offset printed, full color on uncoated paper

EDITION


1500 (2nd Press)

RELEASE DATE


12 July 2008
PRESS
"A lovely collection on both sonic and visual grounds, aspidistrafly's transporting music glistens like sunlight passing through a spider web on a damp summer morning." Textura top albums of 2009, No.12
— Textura, Canada
"‎Taylor Deupree meets haruka nakamura. p*dis staff recommendation No.1 for August 2008."
- Inpartmaint Inc / p*dis, Japan
"宝石のように輝き、木漏れ日のように優しいアルバムがシンガポールより到着。"
— Bounce Magazine, Tower Records Japan
"Refined and robust, these well organized aural assemblages give ample animation and seriousness to the light and prosaic elements of the everyday"
— Cyclic Defrost, Australia
"Its not easy to pin down aspidistrafly's music into a specific genre, which is a good thing. Can you imagine Richard Chartier playing dreamy pop music? With some female vocalist? I'd say aspidistrafly is microsound and pop. Very refined"
— Vital Weekly, The Netherlands
"Very atmospheric, very innocent, very calm and relaxing. Fans of Sigur Ros and Eluvium take note." 8/10
— Foxy Digitalis, USA
"With an eye for details like Taylor Deupree and in the vein of Japanese musician Piana" 8/10
— EARLabs, The Netherlands
"You'll notice over several listens how the quiet minutes are very much like the necessary back story that supports a series of brilliant action scenes in a thoughtfully storyboarded film"
— The Silent Ballet, USA
"Reminiscing a soundtrack of sorts to the wonderful literary universe of Murakami"
— Soundscaping, Norway
"Full of dreamy post shoegaze soundscapes, ethereal female vocals & lullaby folk textures. It's definitely of a high pedigree and lovingly produced"
— Norman Records, UK
"Music like this would get assigned mawkish adjectives such as "ethereal", "dreamy" and every other word used to describe a dimension beyond this one―except that in aspidistrafly's case, the dimension is very much Planet Earth, and its lifeblood is the fountain of human imagination that refreshes all who draw from it"
— Junk, Singapore