Nº 8 JANIS CRUNCH & HARUKA NAKAMURA – 12 & 1 SONG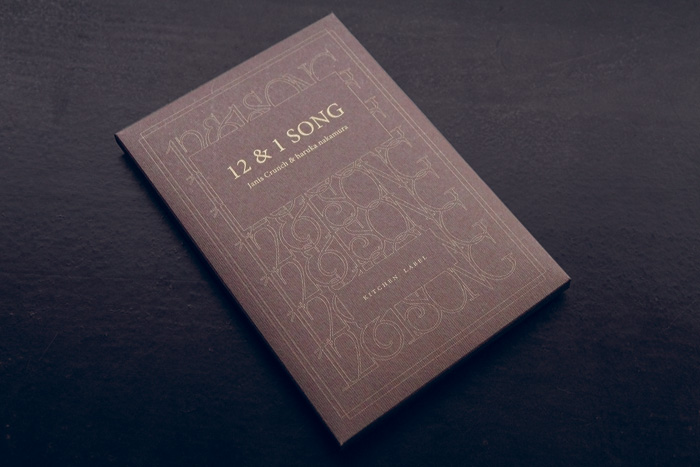 "12 songs for the peaceful winters of the world, and 1 song for your soul"
Kitchen. Label is proud to present "12 & 1 song", a collaboration album between haruka nakamura and long-time musical partner Janis Crunch. Ever since the highly successful release of haruka nakamura's debut album "grace", the duo had fostered an important creative partnership that arguably sparked off several popular classics of their time, with songs like "Everyday", "Ralgo" and "The Light" that resonate surely with fans.
On a wintery night in 2007, the duo were in the process of a candle-lit recording session for haruka nakamura's solo album "grace". Instinctively, they decided to venture off the album recording and to compose a Christmas carol of their own. The track was christened "12 & 1 song" and then published online on a time-limited basis during the Christmas season. The spontaneous sessions spawned a couple more winter-themed compositions and quickly became favorites among fans of both haruka nakamura and Janis Crunch. Even as the two went separate ways on to work on individual projects, their creative bond sustained this year-end tradition till a substantial collection of winter-themed songs, recorded between 2007-2011, was borne.
Janis Crunch's warm, sonorous vocals ring bright and true above haruka nakamura's placid classical guitar and soundscape arrangements. The former reveals the heart of her compositional skills of her primary instrument, in particular her solo piano performances on "SOLITUDE" and "Reqiuem". "12 & 1 song", "nuit" and "prayer" promptly bring to mind the classic sound of haruka nakamura's "grace" album. ARAKI Shin, who has been featured prominently on haruka nakamura 2nd album "twilight", collaborates with the flute on "insincere love". A treasury of thirteen compositions themed with hazy childhood memories and the phenomena of the winter solstice, at times tender and childlike, yet at others, imbued with a sense of humanity and world-weariness, glow with the warmth of a log fire. "12 & 1 song" also sees haruka nakamura in his first production outing, and is mastered by Keith Kenniff (Helios, Goldmund).
"12 & 1 song" is available on CD and digital format on 15th December 2011. The physical CD copy comes in a customized box set edition (19.5 x 13.5cm) with large art paper foldouts of collages by artist Sakura Sato.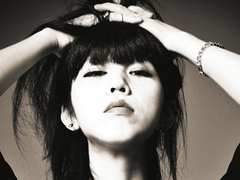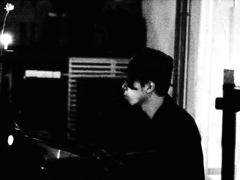 ABOUT THE ARTISTS
Born in Kumamoto, Japan, Janis Crunch is a singer, composer and pianist. As a child, Janis won several local singing competitions performing classical Italian songs. Janis Crunch is classically trained on the piano and graduated in a Tokyo music university. She first gained attention as an artist with her frequent collaborations with haruka nakamura where she composed and provided vocals on tracks in the albums "grace", "twilight" and "CASA" (kadan). Janis Crunch has also collaborated with Akira Kosemura, aspidistrafly among others.
haruka nakamura  (b.1982) is a composer in Tokyo, Japan. As a child, haruka learned to play piano and guitar on his own. His sound is made of sunset and season's perfume. haruka first emerged in the Japanese electronic scene with the release of "Afterglow" (Schole, 2007), a split album with Akira Kosemura. It was then followed by two solo albums "grace" (Schole, 2008) and "twilight" (Kitchen. Label 2010). All 3 albums are ranked as one of the most successful albums in recent times by a new independent artist in Japan. He was awarded "Singles of the Week" by iTunes Japan for the track "twilight". —
Read more
CATALOGUE NO.


KI-008

FORMAT


CD + BOX SET / Digital

GENRE


Classical, Ambient

SPECIFICATION


19.5 x 13.5 x 0.9cm
Customized art box, 4 x large sized art poster, 1 x lyrics foldout, offset printed, full color on uncoated paper

RELEASE DATE


December 15 2011

EDITION


2000
PRESS
"Best seller of 2011, No.15″
— Inpartmaint Inc / p*dis, Japan
"寒い森を抜け、あたたかな明りの灯る家に帰る——
冬の世界のための祈りの音楽。"
— 雨と休日, Japan
"its heartfelt tone is established immediately by Crunch's solo piano piece "Solitude," which exudes a classical character that's equally stately and forlorn. The piano settings are typically elegant classical miniatures of melancholy and wistful character, whether it be the slow waltz "Foret" or "Requiem," in which Crunch pays homage to Ravel."
— Textura, Canada
"12 & 1 song est un joli disque en forme de lettre – romantique, sensible et volontiers nostalgique. Comme toujours sur le label singapourien Kitchen, il s'agit de soigner la musique et l'écrin : une belle enveloppe, du beau papier, quelques collages artistiques et de l'esthétisme jusque dans les chansons, ici confortablement calfeutrées entre la solitude hivernale et la proximité d'une rencontre aux chandelles."
— AUTRES DIRECTIONS, France