Nº 16 HANGING UP THE MOON – IMMATERIAL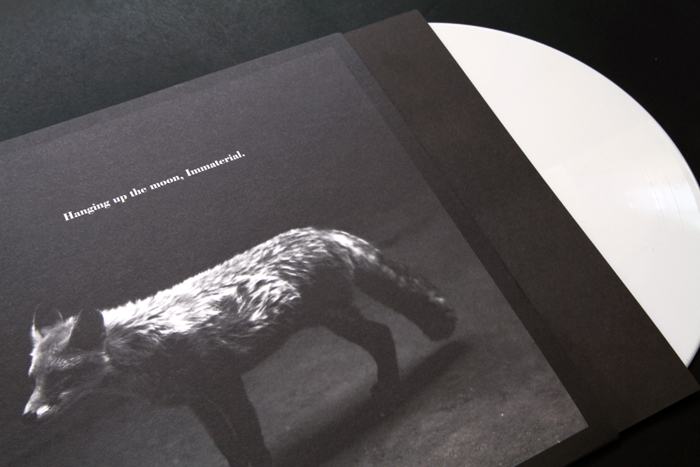 Kitchen. Label presents "Immaterial", the third full length album from Singapore's Hanging Up The Moon.
Hanging Up The Moon started off as the solo project of Sean Lam, ex-frontman of Concave Scream, one of Singapore's pioneer indie bands. Recorded entirely in his study in the wee hours of the morning, the self-titled debut album was a stripped-down affair, its quiet sound captivating both critics and listeners alike.
In the follow-up album "The Biggest Lie In The World", Hanging Up The Moon explored a different soundscape with the help of good friends and fellow veterans of the local music scene: Dean Aziz (Concave Scream), Leslie Low (The Observatory) and Victor Low (Affixen). "The Biggest Lie In The World" was launched at the Esplanade Recital Studio, playing to a full house. The album has since sold out and is currently pending a reissue.
With "Immaterial", Hanging Up The Moon moves even further away from its singer-songwriter roots and continues to evolve both in sound and set-up, with Alexius Cai (Piblokto) joining the line-up. This new album is our most lush and ambitious project to date. Layers upon layers of vocals meet their match in violins and cellos at times epic and soaring, at times subtle and grounded — all set against Hanging Up The Moon's signature melodies, riffs and rhythm.
A two-night show has been planned for the "Immaterial" launch to accommodate the many fans (some of whom were turned away at the door of the second album's launch). To deliver the full sound of the album, Hanging Up The Moon will be supported by a six-piece string section. Together with artistic visual projections and sensitive mood and lighting design, the show promises not just an aural treat but a full-on sensory experience.
Mastered by James Plotkin in the USA, the LP is available in limited edition of 250 pressed on white colored vinyl. The LP will be first released exclusively in Singapore on Record Store Day 2015 on April 18th, followed by an official release on LP, CD and digital formats on 24th May.




ABOUT THE ARTIST
Based in Singapore, Hanging Up The Moon is the solo project of Sean Lam. As hinted at by the name, the songs were recorded in the dead of the night after the day's work was done, his daughter put to bed, and when all was finally quiet. —
Read more
CATALOGUE NO.


KI-016

FORMAT


LP/CD

GENRE


Folk

SPECIFICATION


LP: 12 inch jacket, 12 x 12 inch insert, white colored 180g vinyl

CD: 14.0 x 13.5cm
Customized CD case, 6 page inlay

RELEASE DATE


Apr 18 (LP)
May 24 (CD)

EDITION


250 (LP)
1000 (CD)
LP EDITION






CD EDITION





US$20.00

Shipping to all countries included. Orders come with instant MP3 download encoded at 320 kbps.