Nº 19 HARUKA NAKAMURA – CURTAIN CALL
"Mournful and yet grand is the destiny of the artist."
Entitled "CURTAIN CALL", the new haruka nakamura special album will be released worldwide on 20th January 2017 and for the first time on 12" LP + CD edition. First unveiled in the early spring of 2016, "CURTAIN CALL" was premiered via a NHK BS program "Gaudi's Will – Sagrada Familia, the dream for 100 years" to a nationwide audience in Japan.
The title track "CURTAIN CALL" is recorded with the haruka nakamura PIANO ENSEMBLE formation, the same lineup from his last album "Ongaku No Aru Fuukei' which consists of ARAKI Shin (Sax), Akira Uchida (Sax), Rie Nemoto (Violins) and Isao Saito (Drums). In addition, the recording features the angelic lead vocals of 14 year old prodigy Urara, who was discovered by haruka nakamura during his time as a producer for acclaimed Japanese artist Miu Sakamoto. Urara possesses a remarkable voice in the purest form, an instrument that expresses a range of fragile vocal textures and emotional shadings rare for her young age. The ensemble is also joined by 9-piece female choir CANTUS along with new members Norimasa Sakanoshita (Guitar) and Ami Misawa (Cello).
"CURTAIN CALL" is looking back at a far-off past and long-lost landscapes; an elegiac mood showing a human spirit a sense of renewal which has displaced sorrow. In the quietest passage of the movement, the melody sung by Urara is the spiritual heart of the work. Consciously exercising restraint, haruka nakamura used only a handful of musical elements (Acoustic Guitar, Solo Piano, Sampling and Horn arrangement by ARAKI Shin) in each subsequent renditions of the main track to allow the spotlight to shine on the melody. "CURTAIN CALL" is a journey, a transition and a continuity in sound in haruka nakamura's rich and sonorous world.
This record is mixed and mastered by Gen Tanabe of renowned Japanese band WATER WATER CAMEL. "CURTAIN CALL" is available on a special LP + CD edition packaged in a customised foil stamped sleeve on premium paper. The package includes a double-sided 12 x 12 insert and a CD copy with an additional bonus track "Akuruhi". This release is a joint release between NHK, Inpartmaint Inc. / p*dis and KITCHEN. LABEL. Edition of 200 copies only (International). Total runtime: 24 mins (LP), 28 mins (CD).
*Due to licensing restriction, this release will not be available on all digital formats.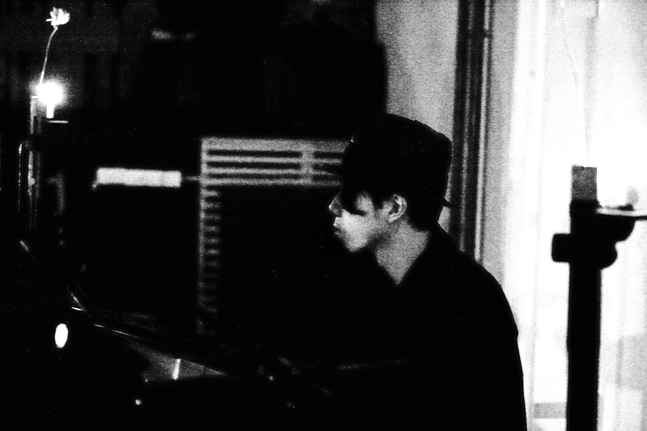 ABOUT THE ARTIST
haruka nakamura  (b.1982) is a composer in Tokyo, Japan. As a child, Haruka learned to play piano and guitar on his own. His sound is made of sunset and season's perfume. haruka first emerged in the Japanese electronic scene with the release of "Afterglow" (Schole, 2007), a split album with Akira Kosemura. It was then followed by three solo albums "grace" (Schole, 2008), "twilight" (Kitchen. Label 2010) and "MELODICA" (hydeout productions, 2013). All 4 albums are ranked as one of the most successful independent albums in recent times by a new artist in Japan. — Read more


CATALOGUE NO.


KI-019

FORMAT


12″ LP + CD

GENRE


Modern Classical, Ambient, Modern New Age

SPECIFICATION


12 inch jacket with copper foil, 12 x 12 inch insert, CD jacket

EDITION


200

RELEASE DATE


20 January 2017
INTERNATIONAL




US$32.00

International air freight included.




SINGAPORE




US$25.00

Local postage included.