Nº 14 音楽のある風景 – haruka nakamura
► 夕べの祈り

► harmonie du soir

► dialogo

► nowhere

► SIN

► 四月の裝丁

► 音楽のある風景

► 光

► 永遠

► CALL (Bonus Download Track)
USD $13.00 – USD $20.00
| | |
| --- | --- |
| 2CD | out of stock. |
| WAV | |
| MP3 | |
Orders come with WAV & MP3 downloads
CATALOGUE NO.
KI-014
GENRE
Avant-pop, Ambient,
Choral
FORMAT
2CD Box Set Edition
Digital
SPECIFICATION
170 x 135 x 12mm box with gold foil, 2 glass-mastered CDs housed in a 4-panel customised case, 36-page book with liner notes offset printed on newsprint paper.
RELEASE DATE
24 Dec 2014
EDITION
7000
"Dead of winter, a hidden chapel. Silent prayers echoing."
We first introduced haruka nakamura's first full-length piano-based album 'twilight' in 2010. The studio-recorded album was extolled and acclaimed by fans and critics alike in Japan. Building on the strengths and success of its predecessor, haruka nakamura returns with his brand new 4th album, a 2 CD 106 minutes collection entitled 'Ongaku no Aru Fuukei' (English Translation: Music with scenery). Recorded at concert hall 'sonorium' in Tokyo, the album features the ensemble line-up of ARAKI Shin (saxophone, flute), Akira Uchida (saxophone), Rie Nemoto (violin) and isao saito (drums). The roots of the ensemble trace back to the recording of 'twilight' when haruka nakamura first invited each member to collaborate on the album. Since its release and after almost 4 years of extensive touring, the group has since built a repertoire and developed a musical language of their own, mixing classical rigor with contemporary improvisation both formal and free. With haruka nakamura leading on piano, they produce glowing sonorities and emotional resonances that are rich in detail and austerely beautiful.
The link to chamber music from hymns and spirituals is fundamental in the music orientation of haruka nakamura. To capture that, 'Ongaku no Aru Fuukei' was recorded in the responsive acoustics of the Jun Aoki designed concert hall 'sonorium' with Katsunori Fukuoka (fly sound) as the recording engineer.
That the album was recorded at the chapel-like hall, rather than a recording studio, makes perfect sense: the recital-like and liturgical nature of this collection closely aligns to the sound and stark beauty of the space itself. The performances which emerged are evocative, intimate and elegantly etched in sombre hues – one that finds haruka nakamura and the ensemble perfectly attuned to each other. 'Ongaku no Aru Fuukei' showcases a mix of short tracks and extended pieces, as well as a range of durations as the ensemble balances composed passages with loose, free improvisations. Newly composed pieces 'SIN', 'Shigatsu no Soutei', 'Eien' and reworked ensemble performances based on pieces from his previous album 'twilight' are included in this collection. Other noteworthy highlights – a breathtaking 19-minute title track 'Ongaku no Aru Fuukei' and the hymn-like 'Hikari' featuring renowned 9-piece female choir CANTUS.
The album is available on 2 CD box set edition designed by KITCHEN. LABEL founder Ricks Ang, featuring a 36-page booklet with photography by Yatoo Takeshi. 'Ongaku no Aru Fuukei' is haruka nakamura's most definitive recording to date and a must-have for all his fans. .
"音楽のある風景はまさにそんな一瞬の邂逅を、光り輝く瞬間を記録した、美しきドキュメントだと言えよう。There is always light behind the clouds."
— CINRA, Japan
"暗闇の中に始まり、敬虔にして無垢な肌触りの音楽は、光に到達し輝きを放つ。「祈り」を思わせるその作業によって、闇の中に「光」を見いだしているのだ。"
— Dacapo Magazine, Japan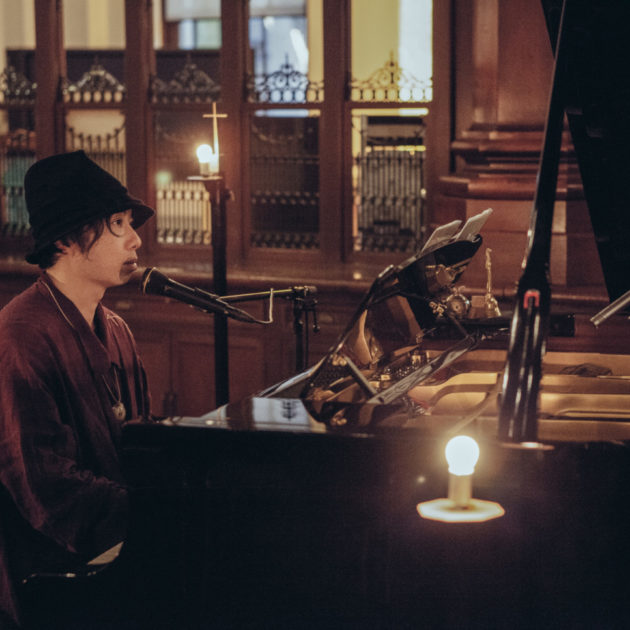 haruka nakamura
haruka nakamura is a composer, producer and multi-instrumentalist based in Tokyo, Japan. While growing up in the snowy hills of Aomori, haruka learned to play piano and guitar on his own…