Nº 37 himorogi – ironomi
► 天咲 ama-saki

► 夢遊 yume-asobi

► 桜雨 sakura-ame

► 響空 hibiki-sora

► 雨宿 ama-yadori

► 抽無 chumu
USD $9.00 – USD $24.00
Orders come with WAV & MP3 downloads
CATALOGUE NO.
KI-037
GENRE
Ambient, New Age,
Meditative
FORMAT
LP/CD/Digital
SPECIFICATION
LP: Crystal clear vinyl, 12″ sleeve with capped obi, 4pp insert, silver-foil letterpress, offset printed, full colour on premium matt paper
CD: Glass-mastered CD housed in a 17.3 x 13.5cm customised case, 4PP insert, silver-foil letterpress, offset printed, full colour on premium matt paper
RELEASE DATE
24 Feb 2023
EDITION
LP: 500
CD: 1000
"The sky opens and the sun leads the flowers to bloom, rain connects the sky with the earth. The dance of joy and sadness blossoms."
himorogi is the tenth album by ironomi. Divining Japanese mythology and its relationship with nature, the new album is an aural pastorale that fosters deeper territory in the realm of spiritual searching through dreamy, drifting piano, 17-string koto (jūshichi-gensō) and new form electronic processing.
ironomi's desire to commune with mother Earth and its season's colors has always served as a continual inspiration for their music. In himorogi, the duo delves into a more spiritual focus in their journey towards musical impressionism. Japanese culture has long held the idea that heavenly spirits live in many elements of the natural world, such as mountains, rocks, trees, and the sea. The album title comes from the Japanese word Himorogi (神籬), which in Shinto terminology is translated as "divine fence," which refers to sacred areas that a celestial spirit enters.
Six songs were created in chronological order, ama-saki (Bloom in the Sky), yume-asobi (Playing in Dream), sakura-ame (Cherry Blossom Rain), hibiki-sora (Echoing Sky)*, ama-yadori (Rain Shelter), chumu (Abstract Nil Space). On each, they move organically in the nature they were recorded, as rain connects the sky with the Earth, giving life to it with blossoming flowers. Once the hues of autumn bid their farewell, another life cycle begins. Rather than arriving at a state of tranquility, the idea is to reach a state of 'nothingness' as suggested in the zazen-inspired chumu. 
Junya Yanagidaira's sublime, elegant phrasing of subtle polyphony and melodic piano lines fall like rain through a picturesque blue horizon over calming koto sways by multi-instrumentalist Yu Isobe. Flashes of sunlight momentarily refract through the water's surface in the form of bright starlit keyboards, at times weaving child-like melodies of enchantment. The lightest touch of koto strings seems to hover and balance the murmur of a garden stream. It beckons you closer as the gentle caress of the music awakens your inner senses. himorogi will remain timeless because the duo created music that absconded with time and place with their endless visions of beauty. 
ironomi releases himorogi on 24 February 2023 (LP edition arriving Q2 2023) via KITCHEN. LABEL. Available on clear vinyl LP, CD and digital formats, with artwork by Japanese photographer Kisei Kobayashi and design by KITCHEN. LABEL founder Ricks Ang. Katsunori Fukuoka mastered this record at Flysound in Japan.
* not included in LP version 
CREDIT
Junya Yanagidaira – Piano
Yu Isobe – 17-String Koto, Programming
All compositions by ironomi
Mastered by Katsunori Fukuoka at Flysound Ltd.
Design by Ricks Ang
Photography by Kisei Kobayashi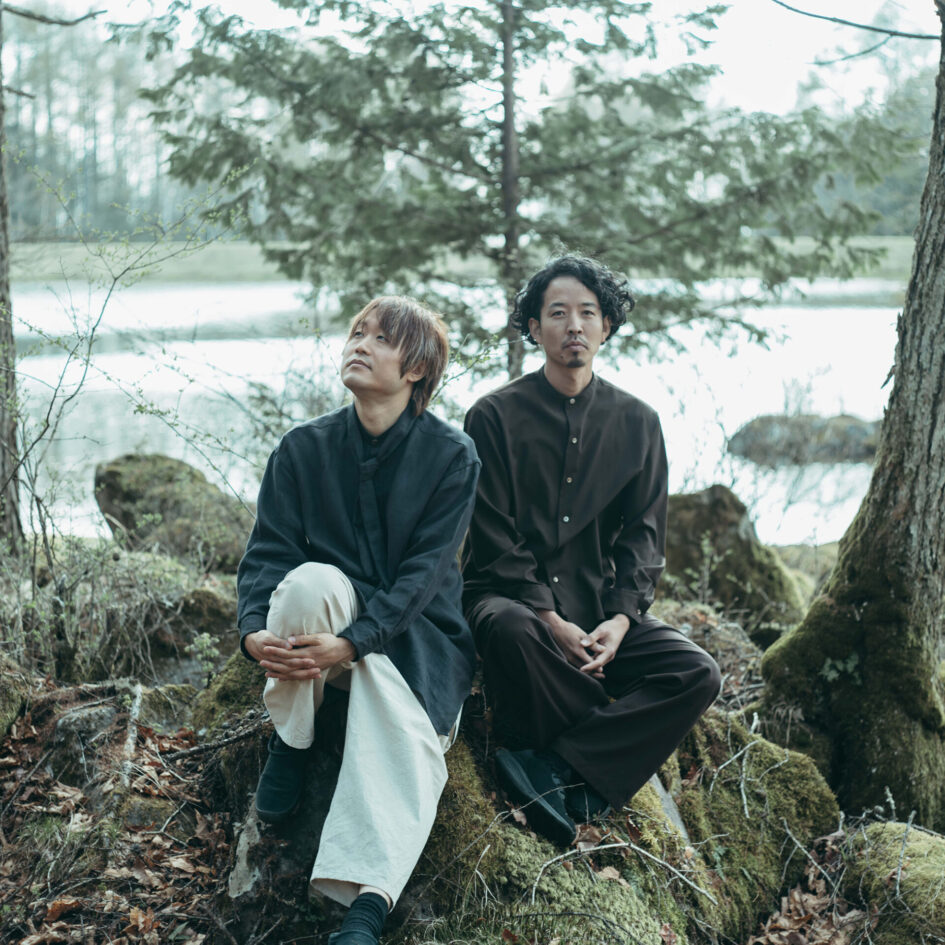 ironomi
ironomi (also known as いろのみ in Japan) is an ambient classical duo consisting of pianist Junya Yanagidaira and Yu Isobe on guitar & laptop…
Additional information
| | |
| --- | --- |
| Weight | N/A |
| Dimensions | N/A |