April 3, 2015
Nº 15 HIOR CHRONIK – TAKING THE VEIL (RELEASE 24 MAY 2015)
'Taking the Veil' is the debut solo album on Kitchen. Label by Berlin-based musician Hior Chronik. Originally from Athens, the new album is a follow-up to his previous work on the label as the duo Pill-Oh in 'Vanishing Mirror'. The established foundation are intact on 'Taking the Veil': the bitterly romantic strings and gentle electronics whisper melting over plaintive piano scores. Hior Chronik has a penchant of producing subtly immense and cinematic compositions which are remarkably chilling in its beauty.
The latest release follows Hior Chronik's distinctive compositional path with the pairing of a collaborator on each track. This time the instrumental colors are most intimate, honed to evocative perfection with each collaboration bringing its own nuances to a permeable set of motives. Through the contemplative moments, what give it life is the varied scoring which goes from solo piano to string orchestra, opening up a space that shimmers with stirring melancholy. Featuring classically aligned contemporaries such as Field Rotation (Denovali Records), Sophie Hutchings (Preservation), Luup (Experimedia) and Japanese composers Yasushi Yoshida (noble), Yoshinori Takezawa (Schole Records) among many others. The biggest change in this new album is the addition of vocals by Amber Ortolano and Fabiola Sanchez (Familiar Trees) on four songs. Figured centrally in the soundtrack as recurring lyrical voicing, the Amber Ortolano and Hior Chronik pairing also produced a rearranged version of 'Twice' originally written by Swedish electronic band Little Dragon.
'Taking the Veil' is presented in a 16-page art book format, also featuring the New York based Amber Ortolano as a photographer. The subject in the visual narrative of 'Taking the Veil' is of young women imprisoned by their flow of thoughts and their dark imagination. The delicate beauty and ambiguous gestures of feminine protagonists serve as powerful metaphors of the veil as the title of the album reflects – They reveal and conceal all at once, reviving emotions conjured by a sense of mystery. The album underlines this atmosphere that probe the consciousness imbued with burnished hues of something half-remembered and half-dreamed. 'Taking the Veil' is the best company for late hours and memory searching in a world of mist and shadows.
The album will be available on CD + Artbook and digital download on Kitchen. Label from 24 May 2015. Stay tuned for more information.
ARTIST INFORMATION – http://www.kitchen-label.com/artists/hior-chronik/
April 3, 2015
Nº 16 HANGING UP THE MOON – IMMATERIAL (RECORD STORE DAY PRE-RELEASE 18 APRIL)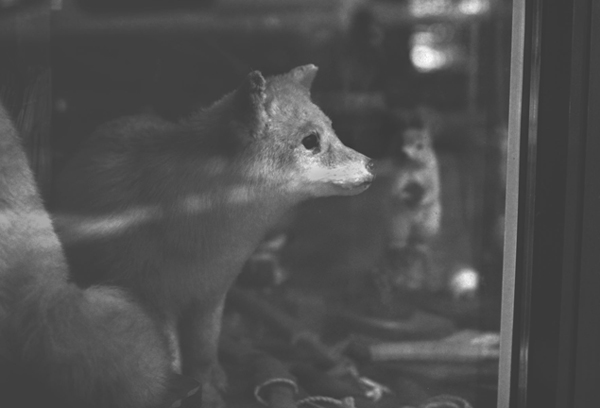 Kitchen. Label presents "Immaterial", the third full length album from Singapore's Hanging Up The Moon.
Hanging Up The Moon started off as the solo project of Sean Lam, ex-frontman of Concave Scream, one of Singapore's pioneer indie bands. Recorded entirely in his study in the wee hours of the morning, the self-titled debut album was a stripped-down affair, its quiet sound captivating both critics and listeners alike.
In the follow-up album "The Biggest Lie In The World", Hanging Up The Moon explored a different soundscape with the help of good friends and fellow veterans of the local music scene: Dean Aziz (Concave Scream), Leslie Low (The Observatory) and Victor Low (Affixen). "The Biggest Lie In The World" was launched at the Esplanade Recital Studio, playing to a full house. The album has since sold out and is currently pending a reissue.
With "Immaterial", Hanging Up The Moon moves even further away from its singer-songwriter roots and continues to evolve both in sound and set-up, with Alexius Cai (Piblokto) joining the line-up. This new album is our most lush and ambitious project to date. Layers upon layers of vocals meet their match in violins and cellos at times epic and soaring, at times subtle and grounded — all set against Hanging Up The Moon's signature melodies, riffs and rhythm.
A two-night show has been planned for the "Immaterial" launch to accommodate the many fans (some of whom were turned away at the door of the second album's launch). To deliver the full sound of the album, Hanging Up The Moon will be supported by a six-piece string section. Together with artistic visual projections and sensitive mood and lighting design, the show promises not just an aural treat but a full-on sensory experience.
Mastered by James Plotkin in the USA, the LP is available in limited edition of 250 pressed on white colored vinyl. The LP will be first released exclusively in Singapore on Record Store Day 2015 on April 18th, followed by an official international release on LP, CD and digital formats on 24th May.
PRE-ORDER – http://www.kitchen-label.com/ki016-hanging-up-the-moon-immaterial
March 14, 2015
HARUKA NAKAMURA PIANO ENSEMBLE JAPAN TOUR 2015 ANNOUNCED
haruka nakamura PIANO ENSEMBLE takes to the road. We're excited to announce their upcoming Japan tour in support of the new album 音楽のある風景 (Ongaku No Aru Fuukei). First show is already sold out and more dates will be added in the coming weeks. We hope to see you at the shows.
01.19 Tokyo @ SONORIUYM *SOLD OUT*
03.21 Yamagata @ BUNSYOKAN HALL *SOLD OUT*
05.06 Sasayama, Hyogo @ RIZM
07.20 Nagoya @ 5/R HALL
10.18 Yufin, Oita @ ARTEGIO
12.25 Kyoto @ THE MUSEUM OF KYOTO
and Osaka, Okayama, Fukuoka and Final Tokyo dates to be confirmed.
March 10, 2015
ASPIDISTRAFLY FEATURED IN 'QUIET CORNER ~ A COLLECTION OF SENSITIVE MUSIC' BY HMV JAPAN
ASPIDISTRAFLY is featured on the 'Quiet Corner ~ a collection of sensitive music' book published and curated by HMV JAPAN head of World/Jazz Yuki Yamamoto. Recommended read.
BUY ONLINE – http://www.amazon.co.jp/dp/4401640799
March 4, 2015
HARUKA NAKAMURA & SONICBRAT FEATURED IN 'QUIET MOMENTS PRESENTS PIANO TONE' COMPILATION
Excited to announce exclusive tracks by our wonderful artists, haruka nakamura and sonicbrat, will be featured in the upcoming compilation 'Quiet Moments presents PIANO TONE'. It also includes other acclaimed modern classical composers feat. Ólafur Arnalds, Nils Frahm, Fabrizio Paterlini, Akira Kosemura and more. Pre-release at all Tower Records Japan on 19 March 2015.
MORE INFO – http://www.inpartmaint.com/site/12456/