Nº 12 The Biggest Lie In The World – Hanging Up The Moon
► Pedestrian

► Tiny Movements

► Last Call

► Throwing Stones

► Pandora

► We Are

► Flock

► Nuclear

► A Distraction
USD $9.00 – USD $20.00
| | |
| --- | --- |
| 12" Vinyl | out of stock. |
| WAV | |
| MP3 | |
Orders come with WAV & MP3 downloads
CATALOGUE NO.
KI-012
GENRE
Singer-songwriter,
Folk, Acoustic
FORMAT
LP
Digital
SPECIFICATION
Foil stamped die-cut sleeve, 12 x 12″ print, digital download card, offset printed, full colour on uncoated paper
RELEASE DATE
25 March 2013
EDITION
500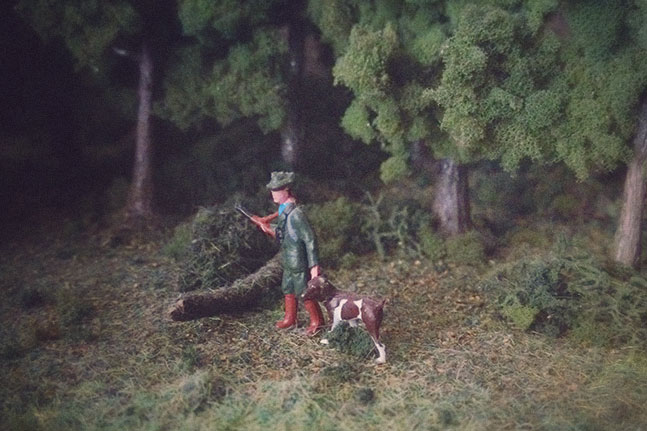 "Landscapes rushing by as boundaries disappear. Soon a whole new world awaits you the stranger. Will the strange be familiar?"
Hanging Up The Moon is the moniker of singer-songwriter Sean Lam, a well-respected figure in the Singapore music scene whose band Concave Scream was one of the pioneer indie bands when it started in the early 90s. In the years since, Sean has gone on to distinguish himself outside of the music scene too as an interactive designer. He co-founded Kinetic Interactive which he then left after more than a decade to start Plate Interactive. He has earned numerous international awards, and has even been asked to judge at prestigious award shows such as D&AD, One Show Interactive, Cannes Lions, Clio and Webby Awards.
In 2011, unable to commit to the demands of a band yet needing an outlet to express himself, Sean embarked on his solo song-crafting project as Hanging Up The Moon. As hinted at by the name, the songs were recorded in the dead of the night after the day's work was done, his daughter put to bed, and when all was finally quiet. In the folk-acoustic tradition of singer-songwriters, the songs were simply accompanied by his buoyant, finger-picked guitar or ukelele, allowing Sean's plaintive vocals and introspective lyrics to shine through.
It is precisely this quiet honesty in both words and sound that has captivated critics and earned Hanging Up The Moon a new following in Singapore.
Encouraged by the reception to his self-released debut album, 2013 sees the release of Hanging Up The Moon's second album "The Biggest Lie In The World" under KITCHEN. LABEL. Sean opens to us a window to his world through the album's artwork, sound and moving visuals. On the one hand idyllic and childlike, inspired by time spent with his daughter and the art projects they create together; on the other hand, he details with a keen eye observations on the harsh society we dwell in, social (mis)behavior which we have come to accept as the norm, and our insatiable and unsustainable appetite. While in the same vein as the first album lyrically, "The Biggest Lie In The World" explores a different soundscape with the contributions of good friends and respected musicians Dean Aziz (Concave Scream) and Victor Low (Affixen). The album also features Leslie Low, member of the legendary Singapore psych-folk band The Observatory.
Mastered by James Plotkin, the limited edition 180gm vinyl is packaged inside a customized foil stamped die-cut sleeve. The package also includes a double-sided 12 x 12 hand-numbered print with extras, including a digital download code. The unique packaging and art design is a collaboration between Sean Lam's very own Plate Interactive and KITCHEN. LABEL.
"Lam's someone whose introspective lyrics are designed to communicate honestly and sincerely. Think of The Biggest Lie In The World, then, as an album crafted to appeal to fans of artists such as Nick Drake and Bon Iver."
— Textura, Canada
"決して歌い上げることのない内省的なボーカルと、70年代のSSWを彷彿とさせる、どこか懐かしさの漂うメロディライン。"
— RePublik, Japan
Hanging Up The Moon
Hanging Up The Moon started off as the solo project of Sean Lam, ex-frontman of Concave Scream, one of Singapore's pioneering and most respected indie bands…