Nº 20 (Reissue) Hikari – haruka nakamura PIANO ENSEMBLE
► nowhere

► SIN

► 四月の装丁

► 音楽のある風景

► 光

► CURTAIN CALL

► 灯台

► はじまりの賛美歌 (Bonus Download Track)

► 夕べの祈り (Bonus Download Track)
USD $13.00 – USD $20.00
Orders come with WAV & MP3 downloads
CATALOGUE NO.
KI-020R
GENRE
Avant-pop, Spiritual,
Choral
FORMAT
2CD Box Set Edition
Digital
SPECIFICATION
153 x 153 x 10mm premium matt cardboard box with gold foil, 2 glass-mastered CDs housed in a 4-panel customised case, 36-page book with liner notes offset printed on newsprint paper.
RELEASE DATE
1 Jun 2019
EDITION
Reissue: 1000
First Press: 4000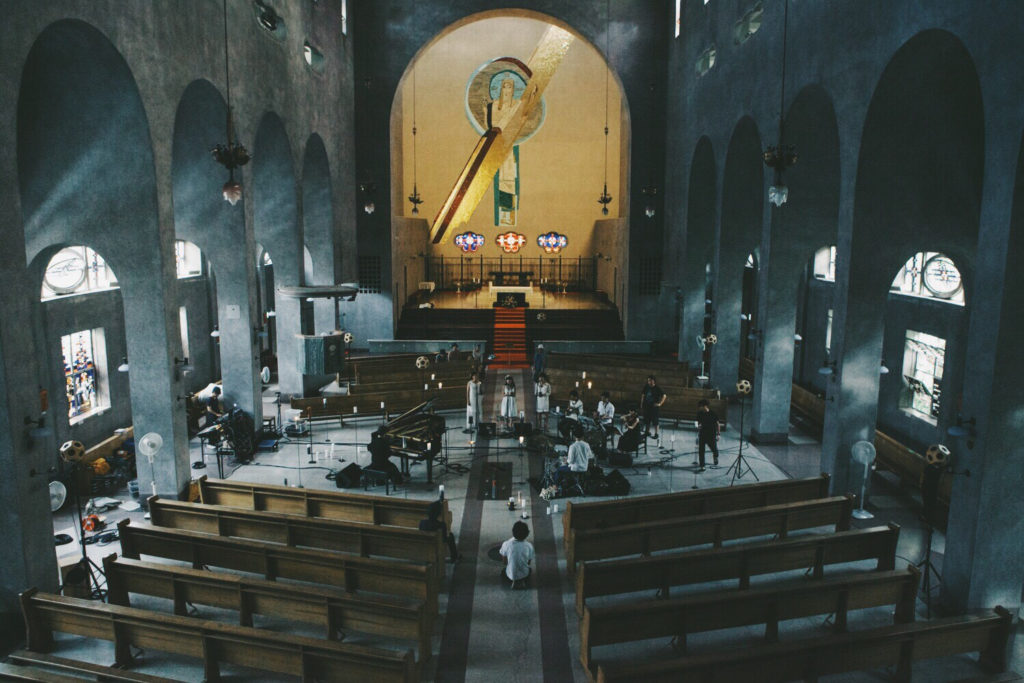 "The light shines in the darkness, and the darkness has not overcome it."
Originally released in August 2017 in a special 2 CD box edition, "Hikari" by haruka nakamura PIANO ENSEMBLE is now repackaged in brand now 2nd press edition. "Hikari" is the final set of the trilogy of albums (Ongaku No Aru Fuukei and CURTAIN CALL) to feature the current PIANO ENSEMBLE lineup before they go on a indefinite hiatus after their last show at the grand St Mary's Cathedral in Tokyo on 21st July 2017.
Since the release of "Ongaku No Aru Fuukei" in 2014, haruka nakamura PIANO ENSEMBLE has held a tour with 17 concerts in Japan and 4 around Asia, with high profile and sold-out concerts at venues such at Memorial Cathedral of World Peace in Hiroshima, Meguro Persimmon Hall in Tokyo and Hyogo Performing Arts Center in Kobe among others. Recorded in late 2016 and early 2017, "Hikari" includes a new suite of pieces from evolved and fully-formed versions of the group's favourites and also previously unrecorded items from its concert programs. The album's repertoire is the ensemble's most complete yet and documented at the peak of the ensemble's form.
Part one of "Hikari" begins with music recorded once again at the acoustically profound sonorium hall in Tokyo. As ever, haruka nakamura's attention to the purity and precision of each and every note is matched by counterparts ARAKI Shin (Saxophone and Flute), Akira Uchida (Saxophone), Rie Nemoto (Violin) and Isao Saito (Drums).
haruka nakamura's piano melodies might appear uncomplicated, but this transparency of sound creates a mesmerising cumulative effect with "SIN" representing the ensemble at its most buoyant.
Part two and the centrepiece of the album features 3 extended tracks recorded at Meguro Persimmon Hall (Tokyo), Waseda Scott Hall (Tokyo) and Lutheran Church (Fukuoka). 9-piece female choir group CANTUS, baobab and 14 year old vocalist Urara all took part in these recordings where the pieces "CURTAIN CALL" and title-track "Hikari" showcase the album's collection of sacred hymns and spiritual high points. The ensemble is also joined by long time associate AOKI,Hayoto (guitar & harmonica) along with Hiroki Chiba (contrabass), Sakanoshita Norimasa (guitar) and Ami Misawa (cello). The album ender and new piece "Todai", thereby closing a divine circuit with its concluding distances. If music is meant to be a transporting experience, then the album "Hikari" is haruka nakamura PIANO ENSEMBLE at their transcendent and luminescent best.
This album is recorded by Katsunori Fukuoka (Flysound) and is mixed and mastered by Gen Tanabe (studio camel house). The reissue of "Hikari" is designed by KITCHEN. LABEL founder Ricks Ang and packaged in a softcase featuring a 36-page book with exclusive photos, liner and composer's notes (in Japanese). The album also includes a digital download for 2 bonus tracks Hajimari No Sanbika (Waseda Scott Hall) and Yuube No Inori (sonorium). Total runtime: 85 mins.
TRACKLIST
1-1 nowhere (sonorium – Mar 11, 2017)
1-2 SIN (sonorium – Mar 11, 2017)
1-3 四月の装丁 (sonorium – Mar 11, 2017)
1-4 音楽のある風景 (sonorium – Mar 11, 2017)
2-1 光 (Meguro Persimmon Hall – Dec 11, 2016)
2-2 CURTAIN CALL (Waseda Scott Hall – Dec 23, 2016)
2-3 灯台 (Lutheran Church – Jun 18, 2016)
Bonus Track 1 – はじまりの賛美歌 (Waseda Scott Hall – Dec 23, 2016)
Bonus Track 2 – 夕べの祈り (sonorium – Mar 11, 2017)
.
"Finally one feels a sense of purity. Nakamura has played at Hiroshima's Memorial Cathedral of World Peace, and his entire output leans toward healing. From the crisp packaging to the clarity of sound, "Hikari" is a balm."
— A Closer Listen, USA
"Hikari captures the group's delicate modern classical which has a timeless joy to it, think Efterklang and Penguin Cafe Orchestra string sections on long summer afternoons." 8/10
— Norman Records, UK
"広島・世界平和記念聖堂を始め、各地の教会や文化財といった会場を回るなかで、即興を主体としたバンドの演奏は刻一刻と変化し、その姿を聖歌隊のCANTUS、14歳の歌姫・うらら、兄妹ユニット・baobabの歌声とともに収めたのが『光』という作品だ。ジャケット自体が示しているように、まさに「光」そのものとなった、PIANO ENSEMBLEの到達点がここで鳴らされている。"
— CINRA.NET, Japan
"「写真家にとって『光』というのは、常に主題のひとつとなりうる重要な言葉ですが、harukaくんの作った『光』という曲は、わたしが探していた光と多くが重なるように思え、強い衝撃を受けました。聖歌隊の歌声に包まれたその曲は、強い祈りに似ている。"
— 中川正子, Japan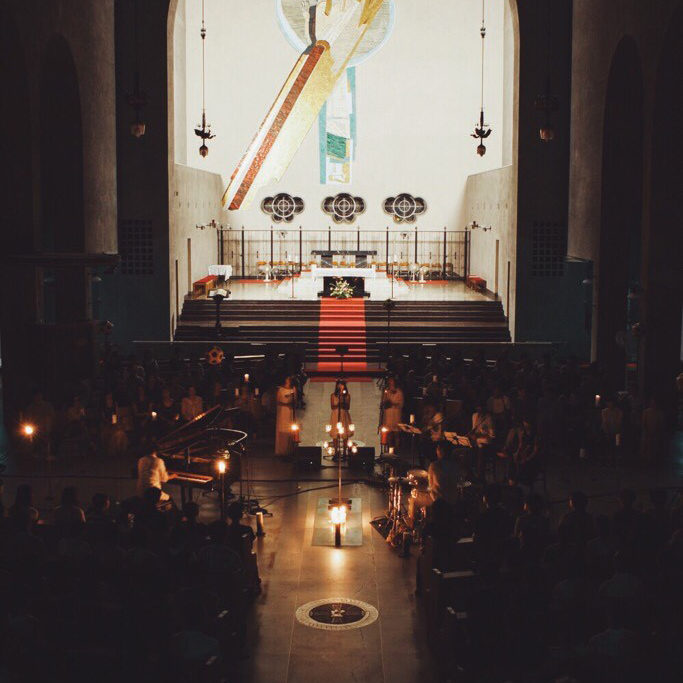 haruka nakamura PIANO ENSEMBLE
haruka nakamura PIANO ENSEMBLE is a potent quintet of core members haruka nakamura (piano), ARAKI Shin (saxophone, flute), Akira Uchida (saxophone), Rie Nemoto (violin) and isao saito (drums)…