October 8, 2015
ICHIKO AOBA 青葉市子 – LIVE IN SINGAPORE (WITH ASPIDISTRAFLY)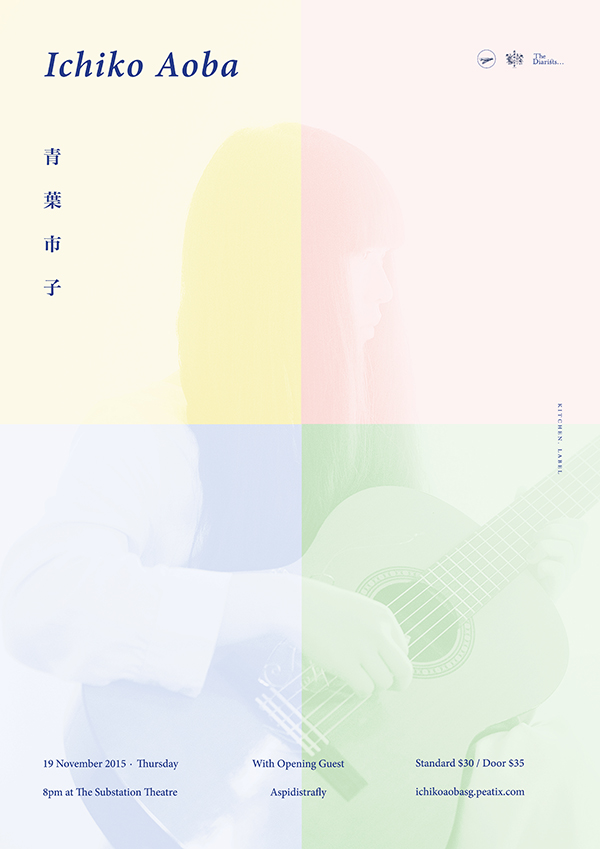 Kitchen. Label is proud to announce the debut Singapore performance by one of Japan's most bright and able singer-songwriters Ichiko Aoba at The Substation Theatre as part of her first Asia tour on 19th November 2015.
An artist on the rise 25 years young, Ichiko Aoba has not only built a reputation as an accomplished classical guitar player but also gained accolades for her voice which adds an aura of beauty and mystique to her intricate and complex compositions. Since 2010, she has released 4 solo albums on Victor Entertainment and most notably shared collaboration projects with Ryuichi Sakamoto, Haruomi Hosono, Keiichi Oyamada (Cornelius), Taylor Deupree (12K) and haruka nakamura (Kitchen. Label). Ichiko Aoba has participated in major festivals such as Fuji Rock Festival and Montreux Jazz Festival in Japan as well as having recently completed a 15-city Japan Tour in support of her latest album '0'.
Ichiko Aoba will be supported by Singapore's very own Aspidistrafly. The duo, which consist of April Lee and Ricks Ang, play a flickeringly filmic mixture of ambient folk with gossamer-like vocal harmonies and guitar-based drone wrapped in a delicate lo-fi haziness. Aspidistrafly will be performing songs from their album 'A Little Fable' and new songs from their forthcoming 3rd album. Fans can expect a special collaboration stage between Ichiko Aoba and Aspidistrafly at this concert.
'Ichiko Aoba – Live in Singapore' is promoted by Kitchen. Label in collaboration with Moon Romantic (Japan) and with support from The Diarists. Catch Ichiko Aoba in this one night only event, tickets are now on sale via Peatix.
ICHIKO AOBA – LIVE IN SINGAPORE (WITH ASPIDISTRAFLY)
19 November 2015 (Thursday), 8PM
The Substation Theatre, Singapore
Standard: 30SGD
Door: 35SGD
Tickets via Peatix: ichikoaobasg.peatix.com
*Limited Capacity, 100 tickets only (Free Seating)
GET TICKETS – http://ichikoaobasg.peatix.com
ICHIKO AOBA – http://www.ichikoaoba.com
August 28, 2015
HARUKA NAKAMURA PIANO ENSEMBLE LIVE AT P FESTIVAL 2015 (TAIWAN)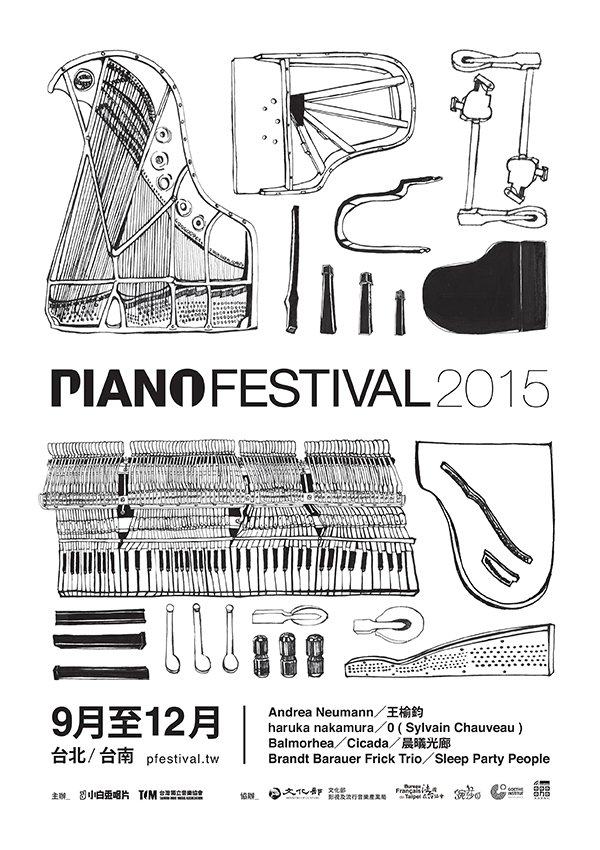 We are excited to announce that haruka nakamura PIANO ENSEMBLE will perform at this year's P Festival in Taiwan as part of their 'Ongaku No Aru Fuukei' tour. The quintet will be joined by special guest April Lee of Aspidistrafly on vocals for 2 dates on 20th and 23rd October in Taipei and Tainan alongside Sylvain Chauveau's 0. The festival is presented by White Rabbit Records and also features Balmorhea, Andrea Neumann, Cicada and more.
Get Tickets: http://pfestival.tw
August 18, 2015
ASPIDISTRAFLY "SONGS IN THE NIGHT" LIVE IN SEOUL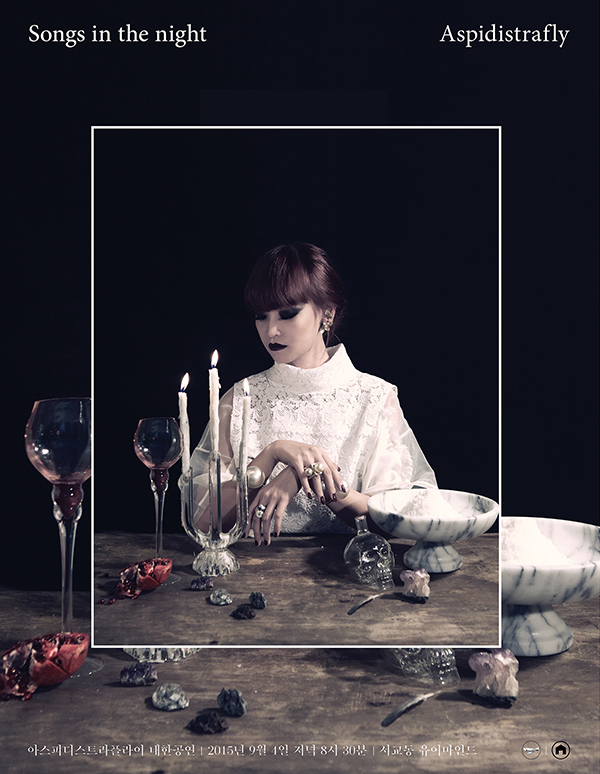 In the midst of recording their long-awaited 3rd album, Aspidistrafly will perform live in Seoul, South Korea on 4th September. The limited showcase 'Songs in the night' is kindly presented by Your-Mind.
GET TICKETS – http://yourmind-bookshop.com/archives/5465
July 22, 2015
SONICBRAT SOUND INSTALLATION 'FOR THE TIME BEING' NOW OPEN AT CENTRE 42 (SINGAPORE)
For fans of sonicbrat in Singapore, check out Darren Ng's latest work "FOR THE TIME BEING", an intimate sound installation augmenting the sound of ice melting. Part of The Vault: #3 Three series by INDEX presented by Centre 42. Open till this Friday, admission is free.
MORE INFO – http://centre42.sg/the-vault-3-2-for-the-time-being
July 22, 2015
SZYMON KALISKI JAPAN TOUR 2015
We're pleased to announce Szymon Kaliski's first Japan tour happening next month. Tour will be kicking off in Kobe and Nagano at space eauuu and Anonym Gallery respectively. The final show of the tour will be held in Tokyo with Chihei Hatakeyama and label-mate FJORDNE at gift_lab on 18th August. This tour is brought to you by Kitchen. Label and Culture.pl of Poland with the kind support of p*dis / inpartmaint inc, White Paddy Mountain and Miho Yamazaki. Special thanks to Shunichiro Fujimoto, ARAKI Shin and Kengo Yonemura for the tour coordination support. We hope to see you at the shows.
August 15, 2015 Saturday
Venue: space eauuu (Kobe)
Open 18:00 / Start 18:30
Tickets: 1500 yen (+1drink)
Live: Szymon Kaliski + Ex confusion, sleepland and more
More Info: http://www.musika-nt.com/spaceeauuu/?page_id=499
August 16, 2015 Sunday
Venue: Anonym Gallery (Nagano)
Open 19:00 / Start 19:30
Ticket: adv. /door 2,000 Yen
Live : Miho Yamazaki, Szymon Kaliski
Special Guest : ARAKI shin
More Info: http://www.anonym-gallery.com/
August 18, 2015 Tuesday
Venue: gift_lab GARAGE (Tokyo)
Open 19:00 / Start 19:30
Ticket: adv./door 1,800 / 2,300 yen (+1drink)
Live: Szymon Kaliski, FJORDNE, Chihei Hatakeyama
More Info: http://www.giftlab.jp/garage/?p=422
SZYMON KALISKI OFFICIAL SITE – http://treesmovethemost.com
RELEASE INFO – http://www.kitchen-label.com/catalogue/ki011-szymon-kaliski-from-scattered-accidents/